Discovery
Get iCopyright's Discovery™ Anti-Piracy Service. Detect Duplicate Content and Remedy Copyright Infringement – Automatically, 24/7
Tired of content theft?
Content creators who are serious about protecting their work need automated tools to track down content theft and resolve infringements.
iCopyright's Discovery™ monitoring and infringement detection service continuously scans the web, and automatically checks for and locates duplicate copies of your content, to help protect your search results.
Why Check for Duplicate Content?
Automated duplicate content detection tools (like Discovery) monitor the web 24/7 to detect duplicate content and copyright infringement.
Why is this important?
When content thieves scrape your content, it results in duplicate content.  Search engines may not be able to determine which content is the original, and may even rank the duplicate content higher than yours.
To protect your assets and maintain your search rankings, you need to be proactive about finding and fixing duplicate content on the web and resolving duplicate content penalties.
How Does Discovery Work?
When you deploy the iCopyright Toolbar on your site, a unique tag is attached to each piece of your content. Discovery uses this tag to create a unique "fingerprint" of content. Discovery then continuously seeks out matching fingerprints on other sites.
When a content match is found,  the "suspects" are rounded up and brought to your attention so that you can investigate them.  A sample report  identifying duplicate content waiting for resolution is shown here: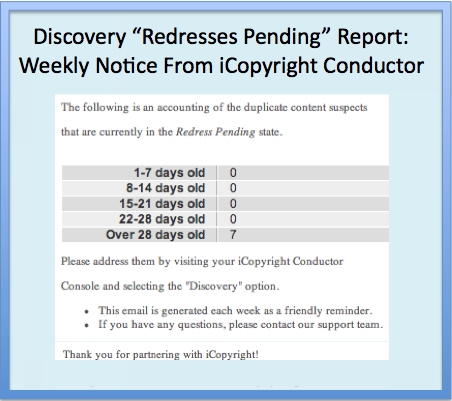 When your content has been used without permission, iCopyright provides you with a flexible set of remedies, such as asking the other site to properly license your content or sending a link request.
In cases where no easy resolution is possible or desirable, iCopyright helps you escalate the case and manage the DMCA take-down process.
The Highest Level of Anti-Piracy Protection
iCopyright's Discovery service is the highest level of protection for serious bloggers and professional content creators:
Automated monitoring and detection of duplicate content

Easily determine which duplicate content is actual infringement
Guided process to manage and resolve infringements
Convert infringers to licensing customers
Protect your search rankings
Discovery automatically tracks down copies of your content, to help protect your search results.
Detect Copyright Infringement, and Resolve it Fast:  30-Day Free Trial 
Try iCopyright's Discovery monitoring and infringement detection service FREE for 30 days.
After the first 30 days, monthly plans start as low as $6/month.
(The plan that is right for you depends on the amount of content you want Discovery to search for, and the frequency of search).
To protect your content, your brand, and your search rankings, and ensure your best content gets the visibility it deserves, try Discovery today.
3 Easy Steps
To get your 30-day free trial, first install the FREE interactive iCopyright Toolbar.  Discovery can then be activated via your iCopyright Conductor console once the toolbar is installed.
To get started:
Install the iCopyright Toolbar to your WordPress, Joomla, Drupal, or other CMS website.
Log in to the iCopyright Conductor console and select Discovery
Choose the monthly plan that's right for you.
To learn more about the toolbar, watch our video, or click here.
Default settings are applied to your Discovery service upon activation.  You can adjust your settings in the Conductor console at any time.
To Begin Your Trial: Install the Toolbar
Click below to see iCopyright Toolbar install instructions for your particular CMS. Discovery can then be activated via your iCopyright Conductor console once the toolbar is installed.
Start protecting your online publication or blog today!