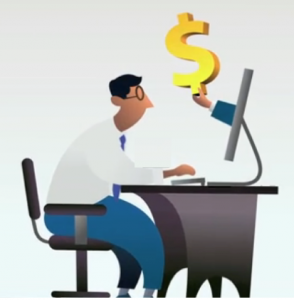 In previous blog posts, we've explored some of the more traditional blog monetization strategies, such as advertising and affiliate marketing. Blog communities like ProBlogger are full of great content monetization ideas and strategies for bloggers.
But what if the goal of your blog is not to become an internet marketer in the classic sense? 
What if your true power is in WRITING about a topic, not for the purpose of selling products to others who share your interest, but simply to share your passion and ideas with a like-minded audience, or report on a current event?
You also deserve for your content to be discovered and shared, and yes … monetized.  Here are some strategies you may not have considered.
3 Content Monetization Strategies we think are worth a look:
Content creators must walk before they can run — and adopting some of these newer business development tools may come later in the life cycle of the blogger — but here are 3 strategies that will enable your content to go further, faster:
1. Triberr: Amplification, Discovery, and Monetization for Bloggers 
Dino Dogan, the creator of the blogging community Triberr ,  is experimenting with new program of influencer monetization for bloggers.
It's based on the cumulative influence of individual bloggers in a given niche, an exciting new frontier.
His goal is to empower bloggers to monetize their individual and collective influence.  In this new paradigm, trust and influence are blogger assets, which have monetary value for brands who can benefit from their influence.
Now, Triberr can help you amplify the opportunities to build your community, AND potentially monetize your influence as a brand ambassador.
2.  Republishing and Syndication:  An Untapped Opportunity for Content Visibility
If the first step to monetization is having your content seen, then bloggers are a prime audience to begin to use syndication and republishing tools.
Some blog platforms and networks –, WordPress, Triberr, and Tumblr among them – offer syndication within a specific network.  With just a click, a blogger's content can be re-blogged and discovered by a much larger audience.
Have you tried reblogging another blogger's content?  Do your readers appreciate this content … or do they come to your blog to hear from YOU?  On the flip side, has this ever led to new visitors to your blog?
We think it's an important blog strategy, and we'll be exploring this idea further in upcoming posts.
3.  The iCopyright Plugin: An interactive copyright symbol for the 21st century
iCopyright has been evolving online solutions for copyright protection and content reuse since before the dot com bubble burst.
In addition to helping you to establish and display terms of reuse, did you know that our interactive toolbar gives you the ability to monetize content?  It makes your blog "license friendly", by adding a virtual cash register to your content.  As well, the toolbar enables your visitors to instantly and legally re-post, and republish your blog posts, articles and excerpts.
With this toolbar in place, content creators don't have to give their work away for free, and can retain some measure of control over the reuse of their work.
Takeaway: Content Monetization Strategies Will Continue to Evolve
Perhaps, as some have written, the free sharing internet culture needs to become a paying culture if the creative class is to  reap the commercial rewards of its labors. Payment models are sure to evolve with the application of new tools.
Ultimately, the market will decide the value of content, but our bet is on a technology solution that gives content creators new opportunities to thrive on doing what they love.
Make Your Content Strategy Work Harder: Try repubHub
Bloggers, would you like to get broader distribution for your original content?
Try repubHub, to build traffic and monetize your work!
We'd like to invite you to contribute your content to repubHub. It's free to join-and adding our toolbar is easy. It can be installed in under a minute with our WordPress, Drupal, or other CMS plug-ins.
repubHub can also serve as a great source of republishable content for your site.
We hope you'll take a moment to, currently in beta (link below), and let us know what you think.