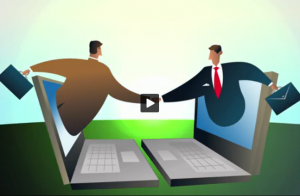 Big publishers have been syndicating content for generations—well before the World Wide Web.
Even with more content being created now than ever before, the business of syndicated content continues to be largely confined to big publishers and big websites, fraught with anxiety and endless negotiation.
We believe it's time to bring content syndication out of the dark ages and into the light.
A Simpler and More Accessible Market Place for Content Creators
iCopyright believes that publishers large and small have much to gain from taking the sludge out of the syndication business. Here are the main advantages:
Safely distribute your online content to a universe of websites.

Get paid for every view.

Track the lifecycle of your creative works.
In a world where there are tens of millions of websites, anyone can have something meaningful to report to the wider world.
Likewise, the Web makes it possible for big publishers to push their content deeper into those millions of smaller sites—and feel comfortable about doing so.
Syndicated content is the ultimate win-win for content creators and publishers of all sizes.
And now, content syndication is as simple and accessible as downloading our toolbar to your blog or online publication.
"Long Tail" Syndication: How it Works
By combining iCopyright's plug-and-play article tools plus a syndication model, we've created a marketplace where big and small publishers can come together, creating what we call "Long Tail Syndication."
Here's how we did it and how you can participate:
We started with the same high-powered syndication and licensing services that we offer big publishers who enjoy IT staff support.

Then, with a few tweaks, we opened up these services to users of the three leading open-source content management systems.

Our WordPress plugin, Drupal module, and Joomla extensions are available now and installable with just a few clicks and no IT expertise
iCopyright Syndication: Why It's Better
What makes iCopyright "long tail" syndication better than other online content syndication services? Here are just a few reasons:
The originating (upstream) publisher sets a CPM price for each view.

iCopyright keeps track of every view and manages the accounting between upstream and downstream publishers.

All syndicated content is distributed with iCopyright's patent-pending article tools that are linked to the licensing services of the originating publisher.

Smaller publishers don't need to learn the arcane art of content licensing and syndication to get started.

Bigger publishers can quickly and easily establish content syndication agreements with many smaller publishers.

You never lose track of where your content goes.
Not only can iCopyright track authorized syndicated uses, our Discovery service can locate those that are unauthorized, protecting the value of your syndication business.
Invitation: Join Our Network!
For as long as publishers have been creating content, others have wanted to reuse and republish that content.  Why not allow your brilliant work to shine on many pages? Why not earn new revenue from a resource you've invested time and money in?
    Install The Free Toolbar, and Join our Content Syndication Network!