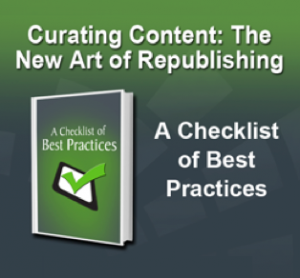 Welcome to the era of "content shock" – where information is coming at us faster than ever, and from every direction!
With so much information vying for your readers' attention, how will your online publication become a go-to source in your niche?
Can you make a big impact with a small editorial team?
The Challenge of Content Creation
Publishing just the right content each day is both a challenge and an art, and the payoff can be great. When your online publication can satisfy your reader's daily need for information without having to go elsewhere to consume it, readership and revenues will follow.
But becoming the go-to site in your niche is easier said than done. Creating original content is resource intensive, and content curation alone will not do the job.
The Art of Curating Content and Republishing
Readers in your niche should be able to rely on your publication to serve their need for news and knowledge, without leaving your site.
That's why republishing well-curated, ready-to-license content is an option that is picking up interest from online publishers, editors and bloggers.
With republishing, you can:
Satisfy reader interests while leveraging existing content budgets
Generate more traffic and the added revenue that comes with readership growth
Republishing content of interest to your readers requires the same focus and thoughtfulness as the development of original content does.  It requires an editor's insight and understanding of reader needs.
When done well, readers can get the value of your editing and context, and stay on your site, building audience that can be monetized.  With the right tools, you publish more content, while saving time and resources.
New Checklist:
To help you to successfully add curation and republishing to your content strategy, we've created a checklist that covers the "whys" and "hows" of republishing, along with seven best practices for curating content in this way.
Your republishing checklist for curating content covers how to:
Select topics/keywords for content curation
Set up feeds to get fresh articles daily
Write original headlines and commentary to maintain your unique editorial voice
Find republishable content in your niche.
Download to learn how to ease your workflow, expand your reach and reinforce your editorial vision through republishing. You'll gain valuable insights and practical tips you can begin using today.
We'd also love to hear from you.  What other content strategies do you use to ease your editorial workflow?
Leave a comment to let us know!