It's 4 a.m. and your blurry eyes strain to finalize your content strategy for the week, or the content for that day.  Sound familiar?
While lots of professionals are challenged with wearing many hats, like most editors we know, you take it all in stride. You maintain laser focus to put out the news while maintaining the highest standards, even as you have to stretch your resources further to do so.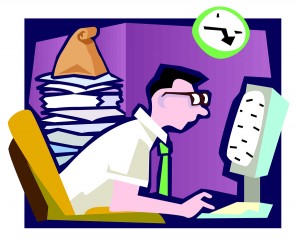 Still, that 4 a.m. alarm is getting OLD.  Today, you deserve a break.
When Content Is King, A New Strategy Is Needed
The Huffington Post publishes a story every 58 seconds. That's as many as 2,000 pieces a day. (Digiday)
Their readers demand a constant stream of content, and their editors can crank it out because they have the resources to do so – cadres of writers and contributors, some paid, many not.
Your readers are also hungry for intelligent content. They rely on you to inspire them, and serve their need for knowledge. And if you could deliver the right content more frequently than you do now, your readers would probably be thrilled.
At this point, you're glancing over your shoulder for the team of writers, editors, fact checkers and support staff that you'd need to seriously up production. Oh, right. It's just your overworked team.
How can you do more, with limited resources? The answer is almost always: be more resourceful and efficient.
A Resourceful Content Strategy
There's a new, highly-effective content strategy that can help you create more content, more efficiently . We're talking about republishing syndicated content.
Curating and integrating republished articles into a content strategy helps editors to reclaim their time (and sanity), while providing readers even more of what they want.
Here's how it works:
Visit the repubHub republishing network, to discover a world of licensed content,
Search by keyword to find an article that your readers would love,
Add an original headline and lead-in to set the stage for your readers (for context and relevancy, if desired),
Hit the "republish" button,
You're done.
Who's Republishing? Publisher Spotlights
This content strategy is a natural fit for many types of news and online information sites. Check out our Publisher Spotlight series, to be inspired by a range of editors and publishers who have already made republishing a cornerstone of their content mix.
By bringing their own curatorial eye to our vast database of republishable content (from outlets like Newsweek, Medical Daily, Investor's Business Daily, and the Washington Times), publishing pros get broader editing bandwidth, and a new way to delight readers.
HuffPo can have their massive editorial teams. With repubHub as republishing partner, you have the support and content strategy you need to up your game, while enjoying full control over your editorial direction, mission, journalistic integrity, and the coffee pot.
Because even though you might not be quite so overworked anymore, you'll probably still need the caffeine.
Try repubHub:  To expand your current content capabilities, republishing is a great option.  Learn how a content network like repubHub can help support your editorial goals.
Free Checklist: 
Are you looking to 
increase traffic, readers and revenues?
Download our checklist, "Curating Content, The New Art of Republishing", to learn 
how to ease your workflow, expand your reach and reinforce your editorial vision through a content strategy that adds 
curation and republishing to the mix.