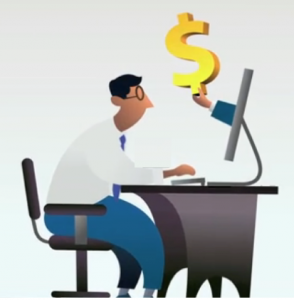 If you follow copyright matters, you know that Meltwater was recently handed a legal blow.
In Part 1 of this series we summarized why the court ruled that Meltwater's online republication of excerpts is copyright infringement, and not fair use.
Meltwater was systematically republishing excerpts of another writer's original expression, without getting permission or paying compensation.
We'd like to propose how writers can profit from this decision.
How Writers Can Profit From the Meltwater Decision
The Meltwater decision is all good news for publishers, freelancers, journalists, bloggers – anyone trying to earn a living by writing online.
Despite predictions to the contrary, copyright protection can thrive online.  The idea that writers can ask for little more than a hyperlink back to their site when their content is reused is simply wrong and, at a 0.08% click-through rate in Meltwater's case, is often little comfort to those trying to earn a living from their craft.
But writers can't sue their way to success.
Helping freelancers, bloggers, and big publishers earn a living is what iCopyright  is all about.
We believe that if more writers used an automated mechanism for getting paid for the republication of their content, and it became part of popular culture, writers would be better able to earn a living.
One  way to monetize your writing —  underused, at this point  - is to encourage licensed reuse.  In other words, make it easy for folks to license your work.
Are Readers Licensing Your Work?
Let me start by saying:  if any freelancer or blogger has feedback on the platform I am about to describe, or other thoughts about how to better monetize your writing, I'd love to hear it.  You can reach me at dan@icopyright.com.
Having said that,  iCopyright's approach is to encourage every publisher, freelancer, and blogger to embed a licensing toolbar atop each article they publish, which travels around the internet with the article to foster viral paid reuse.
The Toolbar is designed to help writers monetize content, by allowing people to republish it.  For instance, suppose someone wants to pay to license an article from you for republication.
We make that process easy:  simply add the toolbar, set a reasonable price, and in the future any reader can use the toolbar to pay you for the right to republish your work.
iCopyright's Toolbar Even Monetizes Excerpts
The standard formats of the toolbar are shown below, and you can see a working version at the top of this article.
To monetize excerpts, iCopyright's Toolbar includes the EZ Excerpt service.  Try doing a copy/paste of a couple paragraphs of this article.  You'll see a pop-up appear that looks like this: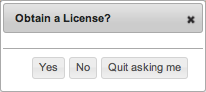 If the excerpt you were seeking to copy/paste falls under fair use, you can just click "Quit asking me" and proceed with your copy/paste.  If you need a license – or if you don't legally need one but would like to express appreciation to the author for reusing the excerpt anyway – click "Yes."  A licensing form will appear, pre-populated with the excerpt you specified and presenting a price to license the excerpt.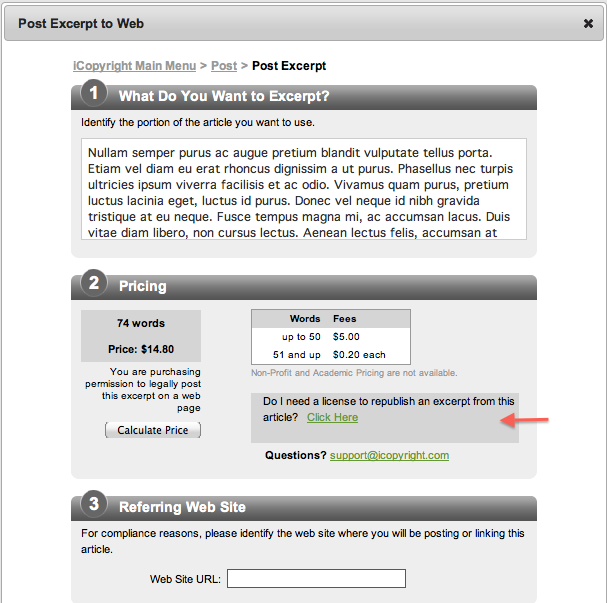 If your reader is not sure whether a license is required, he or she can click the question "Do I need a license to republish an excerpt from this article?" for a little guidance.
(Each publisher can tweak this guidance if they wish.)
Upon completion, the system provides HTML for the licensed quote along with a tiny embedded proof-of-license that allows the licensee to demonstrate they got a license and also allows subsequent readers to purchase additional licenses, fostering viral sales for the writer.
A system like this makes it awfully tough for a content scraper to argue in good faith that they thought their behavior was ok.
Are You For or Against Licensed Reuse of Your Work?
We really believe that if a critical mass of writers would deploy this system our culture would change, people would become accustomed to paying for quality writing, and the problems we read about every day with regard to undervaluing content would be solved.
Now, we'd like to hear from writers, bloggers and publishers:
Do you think that if enough sites installed such a tool, instant licensing would become part of Internet culture?
Say I operate a small website (50,000 mpv) on a specialized topic, and want to republish in full an article relevant to my site.  How much should I be willing to pay for the right to republish the full article?  How much should I be willing to pay to republish an excerpt that captures the "heart" of the article?
Do you think it is possible to earn an income from your writing, as your content travels around the internet?
Any suggestions for further improvement are eagerly welcomed.  We look forward to your comments!