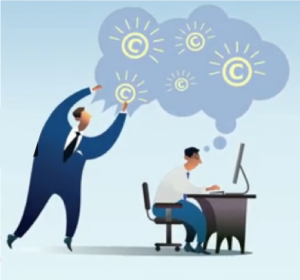 Have you ever come across your words on someone else's website!?
We're all susceptible to copyright infringement — in other words, instances when someone takes your online content and uses it without your permission.
It comes as a shock and a surprise when you first discover content theft … and while dealing with copyright infringement can be frustrating at times, there are things you can do to prevent, detect, and resolve it.
Here's what you need to know:
Four Steps to Avoid Copyright Infringement
Unfortunately, sooner or later, most bloggers become personally acquainted with online copyright infringement.
To protect your online content, here are 4 general guidelines to follow:
 1.     An Ounce of Prevention
First and foremost, make your blog copyright policy clear and very visible. Letting people know your republishing rules, and making it easy for them to comply is always the first step in avoiding infringement.
2.     Make Lemonade out of Lemons.
When you encounter infringement, approach the alleged infringer calmly.  He or she may not be aware of your claim to the content and may not have been involved in the activity.
Attempt to find a win-win solution without further escalation and enforcement measures.  Explore whether licensing, attribution, and a link back to your site is a desirable outcome for both parties.
You might find that what you believed to be a thief may become a customer.  As a first response, honey is better than vinegar!
3.     Don't Get Mad, Get Going!
If there's no room for negotiation, however, and the infringer does not quickly reply to your request to remove the content, draft a DMCA takedown notice and send it to the host of the site where you found the infringing content.  Your work should be removed from the offending site relatively quickly.
Once you determine that removal is the only acceptable outcome, seek the take-down swiftly.
4.     What You Don't Know, CAN Hurt You
 Sometimes, ignorance is bliss … but that is never the case when it comes to copyright infringement.  That's because copyright infringement, besides just being wrong, can cause duplicate content issues and hurt your search results.
Resolve to protect your content in the future with an advanced duplicate content detection tool, such as iCopyright's premium Discovery™ service.  
Time to Step up Your Copyright Game
The sooner you know about infringing sites, the sooner you can go after the content pirates and get those infringing sites taken down—or perhaps find new sites and audiences you can license your content to. 
If you follow these guidelines, you will be well prepared for whatever copyright infringements might befall your blog!
Has your content ever been stolen?
We'd love to hear from bloggers who have had this experience.
How did you first realize that your post was stolen?  What steps did you take to deal with it?  Are you doing anything different now, to protect your digital content and avoid copyright  infringement?
Share your story, and help others learn from it.  Let us know in the comments!